This small guide shows you how to install and use PixClip. Don't hesitate to contact me if you feel that this information is incomplete or inaccurate.
Install/Uninstall
There is no install support yet. Extract the "PixClip.exe" executable to your desktop (for instance) and run it from there. It will start automatically the next time you boot your computer (configurable in the options form).
To remove PixClip from your computer, close it if it is running and simply delete the "PixClip.exe" executable. If, for any reason, you get an error while deleting the file and can't find its icon in the systray, look in Windows Task Manager if PixClip is running and terminate the process. (Press CTRL+Shift+ESC to open the Task Manager, switch to the "Processes" tab and try to locate PixClip.exe in the list.)
Usage
Using PixClip to clip images is really easy. See how:
1. Double click PixClip's icon in the systray to open the canvas. You can also use the the context menu (right click PixClip's icon and select "Show canvas"), or use a keyboard shortcut (configurable in the options form).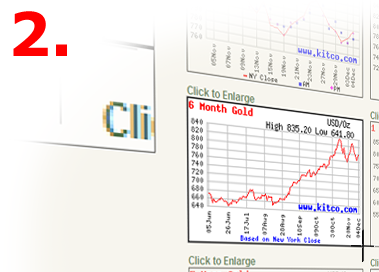 2. Select the screen region to clip using your mouse. Press the left mouse button to start selecting and release it to finish. To cancel the selection, just click the right mouse button, then release both buttons. Press the ESC key to close the canvas without selecting. The zoom window is draggable, you can move it out of the way.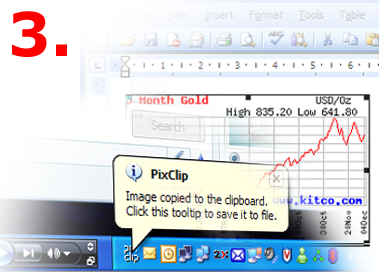 3. Pasting to a document: use the document's editor clipboard controls to paste the image into a document. Works with MS Office, image editing and other applications that support graphics.
Saving the clip to file: click the tooltip or select "Save image" from the menu. Use the combo box below the filename to select the file type.
Options
In the options form, you can set the canvas transparency, startup and clipboard monitoring options and select a keyboard shortcut to show the canvas. You have also some options regarding image format properties used when saving clips (image quality in JPEG format and compression method in TIFF format).
Other uses
You can also use PixClip to send pictures by MSN or other IM programs. Clip an image and just paste it in your conversation. This way, you can show your friends or co-workers what you really mean.
As PixClip monitors the clipboard, it detects whenever you copy images in other applications. You can then use the "Save image" option in the systray icon menu.
If you select a region in Excel, a frame in Visio or Powerpoint, or a page in Word and you execute the "copy" operation, PixClip allows you to save it as an image file. These are only a few examples.
As you experiment with PixClip, you will find out that there are many possibilities, not only in Microsoft Office but lots of other applications.
If you found different ways to use it not described here, please tell me all about it.